How we started
The idea to start cultural and educational activities, which later resulted in the founding of group Children of Kesaj - Kesaj Tchave, was originally created by Anna Koptová. During years 1999 - 2000, shortly after the founding of Romathan Theatre in Košice, Anna Koptová work on educational activities in different territories of the region of East Slovakia and promotes cultural and educational activities in Roma communities. One day she visited Kežmarok with a few artists and interviewed local residents with the idea of ​​establishing the civic association with the cultural and educational mission. And so it happened, and in a short time, in the building on Castle Square no. 9, extracurricular educational activities launched, together with the leadership of the dance class. Interest was great, hall where the cultural performances where prepared was still full of children from street and then a first perfomances and first successes came.
Firstly: task
after pleasure: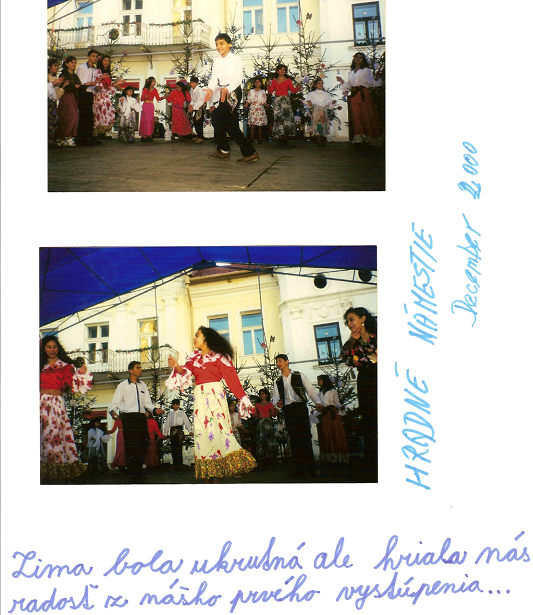 First choreographies were directed by Helena Akimová and Dušan Klempár. They built the base of group as we know it today. A lot of the elements and dances from this period of history of the group Kesaj Tchave are still in the repertoire of the ensemble. In the "cradle" of the group were children from one street, many significant talents were among them, for example…
Kesaj Tchave had performances in Košice, Bratislave, Karviná.
The things they took a quick head . Performances came in Kosice , Bratislava and Karvina . Group gathered experiences and became a known concept in Slovakia.
The story of the Kesaj Kids – "Children of the Gypsy Fairy Godmother" -dates back to the 1990s. They are born and grow up along the "Gypsy Street" of Kežmarok, a historic town of Eastern Slovakia. That street is the backdrop and shaper of their childhood. Fortunately, however, things work out pretty well here there´s not too much misery. For sure, they are a bit separate from the "others" (whites), but luckily there´s no excess, perhaps only the Romas' somewhat exuberant tendency to view their family and community lives a bit in the "Italian stayle". Everything that happens is known and seen by all, preferably in the street. Of course, the "others" are watching, and these colorful people, in turn, have but one aspiration: to became like the "others", to melt into the apparently opulent consumption patterns of the surrounding populace, to make the American dream come tove – a dream now dreamt only by Albanians, Afhgans and a few other suppliers of illegal immigrants. But before making the dream a reality, it´s best to take a peek at real reality. And that´s where prejudies and exclusions of all sorts rear their ugly heads. Here, the transition from childhood to adulthood happens in the twinkling of an eye, smiles fade, sunshine gives way to drizzle, a situation only too widespread in the world. But which gives us a super opportunity to engage in magic – through music!
Music schools steadfastly but often unsuccessfully try to teach the pleasure of self–expression through music, singing and dancing – talents that Roma children possess admirably. This blossoming through artistic expression is a great treasure which we try to help them nature so they may draw on it in their personal lives and share it with others. This may sound like day–dreaming, but in fact it´s rather simple. It´s enough to provide some leadership, preferably by people of the same origin. Self–esteem comes whith the first successes on–stage, and the rest flows naturally. School records improve, there are less stupid pranks downtown – and who knows? Maybe there will even be hope for the future!
This success story was partly achieved by a Slovakian Roma association called Kežmarsky Hlas (Kežmarok´s Voice), which in the year 2000 created the Gypsy song and dance group "The Kesaj Kids". A tour in France showed that we don´t only export illegal immigrants, but prefer to offer our treasures, hoping they will make spectators want to visit us and share in our happiness!
First poster:
The "Kesaj Tchave" ensemble is made up of 25 youngsters aged 10 to 16, from the town of Kežmarok in Eastern Slovakia – from its Castle Thoroughfare, to be precise. They are led by 6 adults, Roma leaders from the Kesai ("Gypsy Fairy Godmother") Foundation, who carry out extracurricular activities designed to provide better integration as citizens. Musical expression is a basic means of communication both within the community – as a natural and spontaneous affirmation of belonging – and towards the outer world, with a positive self-esteem–building projection of the Roma identity. The fact that the leaders themselves are Romas from the same backround as the children gives them extra credibility, enhanced by the fact that rehearsals take place in their family home. Thus the children can see whith their own eyes an example of "successful integration", as a real alternative to their own precarious living conditions.
In our artistic approach, we deem it essential to maintain a spontaneous and playful aspect that comes naturelly to children when they sing and dance. Nevertheless, we must take care (and need to know their background well) so as to balance fun with a proper public performance.
The children´s repertoire is inspired by and draws on fashionable music of the Roma community; for exemple, the "hits" played at Gypsy weddings and parties. This music is also topical, expressing today´s realities. So we are rather far from stereotypes – we replace the folkloric Gypsy violin and zymbalum by guitars and a synthesizer, although still drawing direct inspiration from tradition . It´s something of a mix, then, since these youngsters know pop and jazz, and are of course rabid fans of the "Gypsy Kings".
The bottom line is to ensure there is pleasure in making music and to share that pleasure with others with others.
Up to now, the Kesaj Kids have won this "bet".
First radio recording in Prešov (15.2.2002)
First international tour, May 2003, Festival "Aux Actes Citoyens", Tomblaine, France
The ensemble's head, Ivan Akimov with his wife Helena, have saved this group of gypsy children from an empty and bitter life in the gypsy camps under the Tatra mountains, to which they were predestined only due to their birth. The existence of the ensemble answers the problematic question of gypsy children, who are usually left to care for themselves and live on the streets. Through music and dance, a powerful form of communication in its own right, the souls of these children can be made to blossom. Each of their concerts, where they never fail to win over their audience, shows that the skill and spirit with which they were born is a powerful way to break barriers and change the negative view that is generally given to the gypsy population.
The act, which is so full of joy and happiness due to the amount of experience that these children can draw upon, is very different to non-ethnic child acts, and it never fails to inspire anyone who comes into contact with it.
Worthy of further mention is the striking presence of Ivan Akimov, who despite his non-gypsy heritage, manages to bond the children together in a very playful and lively way. Mr. and Mrs. Akimov gave life to an ensemble without inhibition, yet full of discipline that is unusual for this ethnic group. All of it stems from the authority of Ivan Akimov, who combines the roles of director, father, elder brother and especially, a great friend of all the performers. "It's not about the preservation of folklore, even less about humanitarian help or charity," says Mr. Akimov, "Since it's pure joy to meet these little beings, so honest and natural, happy in their music. Their identity is very strong, they aspire to become like everyone else. Music and dance are tools of communication, a method to open up to the world, to integrate a particular form of upbringing. We build the bridges."
There is another being that helps to build the bridges. Her name is Kesaj and she is a fairy from gypsy fairytales, whose name the children borrowed for the group's title. This fairy is capable of remarkable things, for example last night she received very little sleep because she had to travel with the children from Kežmarok and right after the show she will follow the children in their joint trip to France. This fairytale creature teaches that love can only be received by those who give love and help to others. Kesaj would surely be very proud of all you concert-goers, as you can feel good that by coming to listen to these young gypsy artists from Slovakia, you are helping a lot. And you shall be rewarded with completely authentic gypsy dances and songs, which you shall have the pleasure to watch non-stop for the next hour and a half. Enjoy the show!
begins a fairy tale...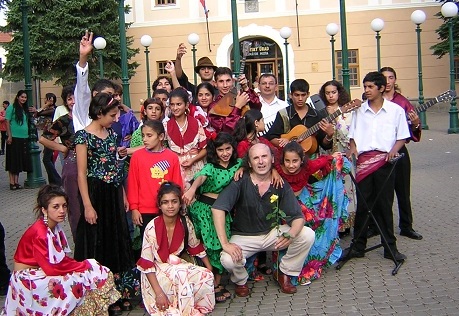 Programme Roms et Voyageurs
Super djives – Super day
1. Summary of the action
Artistic and cultural activities with Roma youth and children from Kežmarok and the surrounding shantytown communities
To use the music of the Roma community as a vector of communication and as a support of construction and development
To acquire musical and artistic competencies of the Roma tradition, but also and especially, to enable the learning of codes and practices necessary for orientation to the professionnal life of an adult Roma or non-Roma.
In practice, we have constituted a group of dance, singing and Roma music open to everybody. This is a place of desegregation above all, for the Roma community itself (upwards social mobility not being reserved only to the caste of musician families, but also open to all the sub-groups making up the diversity of the Roma community).
The group is given as an example. It motivates the young people; it's a place of refuge for them but also a place of blossoming for the young talents, no matter which family they come from.
With its artistic activities, this group is very attractive for the young people of surrounding areas ; it offers to its members, a school of real professionnal life, in other words the life of a Roma artist, who has to use all the means of his/her art to survive and to gain his place in the society.
Of course, these learnings are not only reserved to the domain of music and arts. In reality, we offer them the necessary kit to face the professionnal life and the life of an adult in general.
2. Relevance:
2.1 How relevant is your proposal to the needs and constraints of the target country(ies) or region?
The region of Kežmarok has a strong density of Roma population, concentrated especially in more than twenty shantytown colonies, where some of them is composed of around a thousand people. There is, in sum, 23 locations, which represents a population of 26 762 Roma inhabitants.
Even when they attend schools, most of these young people have very little direct contact with the majority community. In most cases, their education takes place in specialised schools for the mentally retarded.
For us, it is important to go towards this population which finds itself relegated to live in isolated territories and who often has a negative perception of his/her own ethnic identity, as a result of fatalism and of disillusion.
The positive perception of their belonging to the Roma community has to take place through a valorisation of their culture and Roma identity, in other words through informal learning of social codes which allow young people to communicate with their community and to enable their orientation to the majority community. All throughout our experience of more than 6 years, we observe the indisputable positive effects of such an action.
2.2 What are the problems to be resolved and the needs to be met?
The problems to be resolved are:
· The chronic segregation and isolation of the Roma population
· The negative and fatalist self-perception of the Roma identity by the Roma community itself
Wheras its important to:
· To implement passages to enable an opening towards the majority community
· To give young people means to recognize their own culture and to promote the value of Roma identity in general
· To abolish the internal barriers inside the Roma community itself
· To promote the know-how of Roma
2.3 What are the objectives and expected results?
Our objectives :
· An integration of Roma towards the majority community all by paying special attention to their values and the blooming of their culture
· The formation of youth clubs (music, singing and dance groups)
· Development of a core group of artists in order to offer them an opening towards the professionnal world of visual arts (through national and international tours) and to demonstrate a positive example to Roma and non-Roma society.
Expected results :
· An obvious amelioration of personal development of the young participants,
· A positive integration into the majority community, while keeping their cultural and ethnic attributes,
· The supression of internal barriers inside the Roma society,
· A progressive inclusion towards the majority community.
2.4 What are the objectives and expected results?
The principal added value of this action is that the dynamism comes from the Roma youth itself. In addition, this project enables the implementation of a platform of activities of promotion of Roma culture and identity in its popular expression. Moreover, this project effects the majority community as well as the target population constituting the Roma shantytown colonies. In the end, it allows the development of a professionnal group of artists having a large public audience, with a national and international marketing.
3. Methodology and sustainibility:
3.1 What are the main project activities?
Artistic activities: Roma singing, dance and music destinated to children and adolescents, and framed by adults.
We have a community center, whose doors are open to everybody during the day, directed by the Roma. We organize daily rehearsals for songs, dance and music. This location serves as well like a refuge, available all the time, for those young people exposed to danger in their very immediate surrounding.
We organize regular trips to shantytown colonies to activate on the spot, a network of local correspondants, to develop activities on the field and to inform the young people on the possibilities of participating to the activities of the center.
We develop semi-professional activities which integrate not only the artistic practice but also the notions of management and communication in the context of an enterprise.
3.2 Who will be your main implementing partners, what is the length of your relationship with them and how will they be involved in the project?
The Roma coming from the shantytown colonies around Kežmarok are at the heart of the project. They are directly involved at every phase of the project and they are the actors of the main action.
A network of contacts exists in the main surrounding locations. They are regularly associated to our activities.
We also consider young artists as partners of whole share to our project. In fact, without their participation, the project would eventually fail.
Finally, the Municipality of Kežmarok is an important partner ; we have good relations with the municipality, Mr.Ing.Šajtlava, as well as with the Special School of Kežmarok, the elementary school of Lomnička, Private School of Traditional Roma Artisanship of Kežmarok, and the Learning Center for Agricultural Professions in Kežmarok.
3.3 How will the project achieve sustainability?
The principal engine of the project is the young Roma and the core group of artists which will be put to life during the project by their sucess on different scenes. In future, we would like to open a hall for shows and gastronomy. Our aim above all, is to introduce these young people to the working life.
3.4 Will it have multiplier effects?
The project brings into play actors from different locations and we know that there is a need for the development of projects similar to ours. We will help the launch of such activities, in the best way we can, as long as our capacities permit us.
https://www.fnasat.asso.fr/
https://fnasat.centredoc.fr/opac/index.php?lvl=more_results
Dagmar so synom, Mira, Peťo, ujo Ivan, Jano, Ľubka, Maroš, Majka, Jožko
summer 2014, Veľký Krtíš
15 years after